Bharatanatyam
Teacher: Hema Iyengar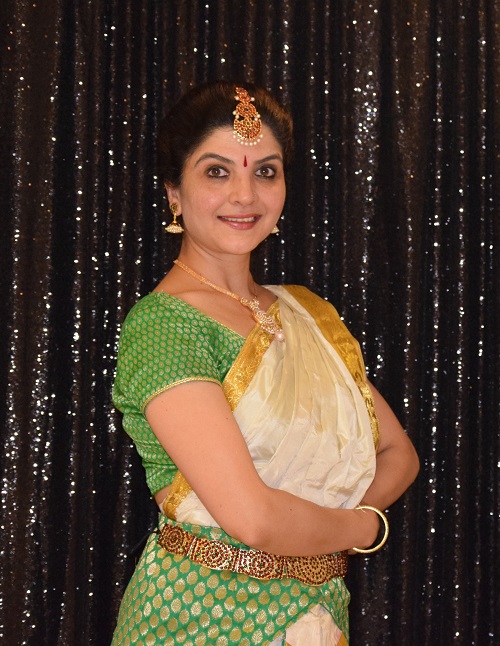 Hema Iyengar Bharatanatyam Dance
Hema Iyengar is passionate about classical dance and feels that dance is an expression of inner feeling. She started learning dance at the age of 4 in Pune, India under the tutelage of various gurus like Smt Radha Moorthy, Smt Suchetha Chapekar and Kalaimamani Madurai Muralidharan and has in turn been spreading her art for the last 15 years. She continues to enhance her knowledge even today by learning under various gurus. Her passion for dance continues to be showcased through her teaching and choreographies.
Hema teaches a mix of Bharatanatyam style : Vazhavoor, KalaShetra and Tanjore. This style is more feminine, emphasizing laasya (dance by Parvathi) over tandavam (dance by lord Shiva). Because of which this style of dance is best suited for performing emotive pieces and dance dramas. In 2006, Hema founded the NrityaAnjali School of Dance and has been giving group and private lessons for youngsters and adults. Classes are held in the metrowest area and North Attleboro in MA.
Bharatanatyam has its roots deep in Indian mysticism, legends and rituals, depicting achievements of heroes and Gods.
All the dances are structured around the nine rasas or emotions: lasya (happiness), krodha (anger), bhibasta (disgust), bhaya (fear), shoka (regret), viram (courage), karuna (compassion), adbhuta (surprise) and shanta (serenity). The dances differ from one another due to different ethnic reasons however, the hand movements or hasta mudra are the same for all the rasas.
In her classes, Hema introduces the beginner as well as those with prior training to her style of Bharatanatyam, starting with the mudras, (hand gestures), the adavus (steps with hand and foot movements), and then progressing to full length dances. Her students have performed at various shows and competitions.She actively trains students for arangetrams.
Classes are taught at various locations: Westborough and North Attleborough. Register for classes at any location after initial consultation with the Center.
What to bring:

Water, Notebook

Price:

Beginner Group lesson - $70/month for a one hour/week class;
Private/Semi Private lesson - $35/45 min;
Intermediate Group Lesson $80/month for 1 hour/week class; Senior Group lesson - $100/month

Class Times:

Contact:

Email – nritya.anjali@gmail.com