Hindustani Vocal
Teacher: Vandana Rao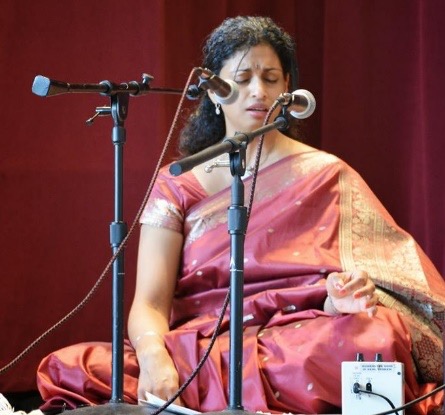 Vandana Rao Hindustani Vocal
Vandana Rao has been a music enthusiast from a very young age and started her music training at the age of 8. She trained in Mumbai for over 8 years in the khayal style of Hindustani music under the tutelage of several gurus. After moving to the US, she renewed her training in music under Smt Sadhana Upadhyay at the LearnQuest Academy of Music in Waltham, Massachusetts, learning various styles of Hindustani music including khayal, and light folk. She trained under Warren Senders, a vocalist and composer in Indian and Western music, and more recently, she has been training in dhrupad style of Hindustani music from Pt. Ramakant Gundecha.
In 2014 Vandana started the Sur Samvaad School of Music in Westborough where she teaches classical music to both young children and adults alike and currently has over a thirty students. She performs at local events and enjoys composing music in her free time.
Learn one of the oldest forms of Indian classical music. Hindustani classical music, or the North Indian style of music has a rich tradition of raga based expression of songs and notes. This class is open for students at all levels and will take music enthusiasts through a journey of both classical, light classical and film music. The classes are designed to give the students an insight into classical music as well as classical based film songs, bhakti geet (devotional songs), and patriotic songs. The raags will be taught in the typical sequence that is taught in a formalized music program and will follow the curriculum as outlined by the Gandharva Mahavidhyalaya. Classes will draw upon popularly used bandishes (songs), as well as those created and composed by my guru, Smt. Sadhana Upadhyay. The classes will be held once a week for between 45-60 minutes.
Email us for class times. Classes are typically held on Mondays, Fridays and Saturdays. Register for classes only after initial consultation with the Center and to determine class level and availability.
Register here
What to bring:

Wide ruled composition book; three ring binder; water bottle

Price:

Fees are collected on a session basis and are at the following rate:
Group lesson - $80/month (45-minutes class once a week)
Private lesson - $30/45-minutes class

Class Times:

Hindustani Vocal - (2022-2023 Registration) - Mon-Fri: 4:00 PM - 10:00 PM


Contact:

Email – info@centerforartsandwellness.com