Event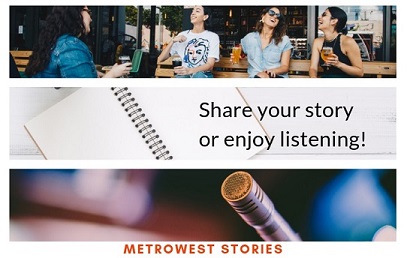 Metrowest Stories
Everyone has a story to tell! Storytelling inspires and connects human hearts and minds, builds bridges and forges connections by fostering compassion, understanding and empathy. A well-crafted story can open our minds to new possibilities, ignite our spirit and inspire us to continue on the journey of becoming the best version of ourselves (as individuals and as a community).
MetroWest Stories through its monthly forum aims to create a platform for individual self-expression to cultivate self-awareness, foster human connection, inspire each other through the art of storytelling, and encourage anyone who ever doubted they had a story worth telling.
Metro West Stories provides a stage, a microphone, a timekeeper and a theme to inspire and shape the evening. A lively and supportive audience is an active part of making this event special. Interested storytellers drop their name in a hat, 10 names get pulled at random and are heard. Storytellers are chosen at random, limited to five minutes.
After all the stories are told the audience picks their favorite of the evening.
Theme for April: New Beginnings.
Date: Thursday, APRIL 11, 2019
Time: 7:00 pm
Location: Center for Arts and Wellness, 125 Turnpike Road, Unit #10, Westborough, MA 01581
For Tickets click here.
For Tips and Rules click below.
Click here to read attached file